Welcome to VI Resorts!
With more than 40 years of experience creating memorable vacation experiences for our valued members, VI is in a unique position to make your dream vacations come true.
Desirable Destinations
With VI's growing number of resort locations, coupled with hundreds of vacation destinations through our exchange relationships, we offer you a world of vacation choices!
Flexibility is Key
You design a vacation plan that caters to your constantly changing life. From a long weekend to a relaxing beach vacation or a family reunion, VI will meet your leisure needs, year after year.
Service – You Deserve the Best
From your first call to plan your vacation, to the 'welcome home' you receive upon arrival, you will be embraced by VI's commitment to service and quality. You are treated like family, because you are family.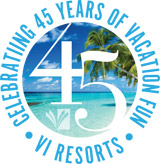 VI Mission - We Live It...
VI Resorts is an owner-controlled vacation club, dedicated to providing memorable vacations with choice and flexibility.